50 Million Voices is an ambitious global initiative seeking to transform the world of work for people who stutter – and for employers and society too
Why 50 Million Voices
Globally, 50 million people of employable age stutter. This is a huge pool of under-utilised talent.
Across the world, people who stutter frequently experience negative bias and prejudice. Consequently, we often miss out on job and career opportunities while employers miss out on our talents, strengths and experience.
Launched in 2019, our leaders are working together to change this. We come from 15 countries and 6 continents: Canada, France, Germany, Ghana, India, Ireland, Israel, Japan, Kenya, New Zealand, Peru, South Africa, Spain, UK and USA.
Our vision and beliefs
"We aim to create a world where everyone who stutters can enjoy a fulfilling working life, and where more organisations benefit from the talents and strengths of people who stutter."
We regard stuttering as simply a different way of speaking.
We know that the experience of having a stutter often results in the development of strengths in areas such as listening, empathy, resilience and creativity. These are all skills that increasingly give employers an edge in the rapidly changing workplace.
Creating stuttering friendly cultures
Please watch our short introductory video:
We all thrive when we feel we belong. In stuttering friendly cultures our stuttering voices are heard and the whole team benefits.
"The main reason I joined my new employer is because they have a stuttering employee network. The work is similar to my old firm, but the culture is different and I'm thriving now."
Activities supporting employers
Increasing numbers of employers are including our stuttering related activities in their diversity & inclusion and talent acquisition programmes. They're often surprised how easy this is and are delighted by the financial payback.
Examples include practice interview days, best-practice recruitment workshops and mentoring for employees who stutter.
We'd be delighted to listen to your diversity & inclusion and talent acquisition goals and explore how we might help you achieve them.
Practice Interview pilot – October 2020
Our pilot Virtual Practice Interview event in October 2020 included 75 people from 8 countries, with a mix of 49 who stutter and 26 allies who don't stutter. It was a great success. Confidential feedback indicated that 100% of interviewees and interviewers found it extremely (84%) or very valuable (16%).
Please watch these very short videos made by some of our participants who share how they found the experience and the difference it's made:
Will Earthy – Interviewee experience – Why I took part
Will Earthy – Interviewee experience – How I benefitted
Chris Gemmell – Interviewer experience – From a leader who stutters
Sally Bibb- Interviewer experience – From an ally who doesn't stutter
Next Practice Interview events
There are 50 million reasons to take part!
For English speakers – 21 & 22 April 2021
Supported by TSB Bank and using a similar format as the pilot, we're offering free confidential one-to-one virtual interviews with feedback to:
People who stutter as interviewees (18 yrs and over)
People who stutter as interviewers (25 yrs and over)
People who don't stutter as interviewers (25 years and over)
The event will include:
90 minute educational briefing on stuttering at work
60 minute practice interviews including time for individual feedback
60 minute group feedback and sharing session
Applications have now closed.
Donate
We receive no grant or government funding and would be very grateful if you'd like to donate to support our work.
Please donate here :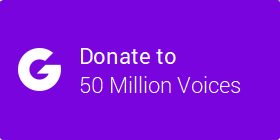 or contact Iain Wilkie our Chair: chair@50millionvoices.org
UK Charity registration number : 1189541
Find out more
Please click here to contact us for information or enquiries
Our full website is coming soon – we appreciate your patience while we complete it.